KIT INCLUDES
1.5m pre-cut non metallic curling ribbon and appropriate number of balloon clips. 28cm Biodegradable non printed Latex Balloons your choice of colours. Balloon Gas Tank with high quality helium to inflate your required number of balloons & regulator.
The recommended number of balloons obtained from any gas cylinder is based on using good quality balloons inflated to 25cm in diameter. If the balloons are larger than this you will reduce the number of balloons obtained from each cylinder. You will also reduce the amount of balloons obtained by leaking helium, bursting balloons or not using the regulator correctly. Please note by filling foil balloons, this also reduces the capacity of balloons obtained from the cyclinder.
http://www.balloons.net.au/wp-content/uploads/2013/09/Helium_Brochure_2017.pdf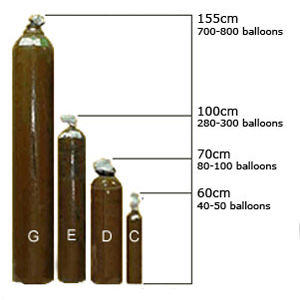 Please note G size tanks are not available for hire.